GOLDEN HAMMER


[23.09.07]

Simpel Session teaser won Silver Hammer on the biggest advertising festival Golden Hammer! Sweet!


SIMPEL SESSION SUMMER SPLASH


[20.07.07]



Go here for our summer jams website.





SIMPEL SESSION FINALLY ALSO IN SUMMER!


[26.06.07]

Yo Fellas! Some of you have been asking for a reason to visit Estonia in the summer and there you finally have it. Simpel Session is putting out a summer edition contest - Simpel Session Summer Splash on 25th August. We're back after 4 years break in bigger summer events. We have a new exciting location in the center of Tallinn and new Wessel park coming. This event is also qualification contest for Winter Bash on 25-27th January 2008. More info on the way, stay tuned!



SIMPEL SESSION CLIPS!


[19.03.07]

Clips are now on Freecaster:


BMX1

;

BMX2

;

BMX3

and

skate clip





You can check the full video from here.





MAGAZINES


[09.03.07]

There are bunch of magazines out with Simpel Session coverage and some still on their way.

Check some of them out here.


VIDEO


[19.02.07]

There's a video up in our sponsor - Simpel website.


Get it here!





PHOTOS ONLINE VERY SOON!


[14.02.07]

I know you've been thinking that we've been slacking off and 'where the heck are all the new photos'? Well, to be honest, I did took a few days off but then got busy with so many new stuff already. But at least I can tell you now that the photos are on their way to our website gallery in a few days.
There's gonna be a lot of them and they're all awsome. Thanx for all the paparazzis who gave us their bread and butter!





LOOK MOM, I'M ON TV! YES - AN UPDATE


[14.02.07]

As told, Simpel Session 07 TV clip will be on air tomorrow midnight - 00.00 (that is thursday to friday) on

Estonian Channel 2

. The clip is 25 minute long and features interviews with various riders and of course a lot of highlights from the contest. Check it out! Those of you who cannot tune in to Estonian tv frequencies (in obvious reasons of living somwhere else), not to worry, we're probably placing the clip online as well in the close future.

Of course only a tiny fraction of all the footage we shot at the event will be squeezed into those 25 minutes. So, we might put out a longer dvd later on, like we did last year or it's actually more likely we're gonna publish more material in our website or through our partners - that is full lenght intrerviews, more full runs and so fourth. We'll see, you just stay tuned in for a bit more!

By request we've also sent a lot of our footage to US

Fuel TV

and the guys are currently busy with editing that down for their channel, so look out for that too. Also Simpel Session will be shown in French Extreme Channel's 'Tige Show'. More coverage to follow.







SESSION @ FREECASTER


[09.02.07]

Some finnish lads have filmed Simpel Session and sent it to Freecaster. The footage is filmed kinda far away from the audience but is still pretty nicely put together. Have a look:

VIDEO1

&

VIDEO2

.



SIMPEL SESSION 07 WEB STREAM


[03.02.07]

We've been hearing some feedback that our live stream kept freezing or stalling out. It was a browser settings issue, some browser settings had a problems with playing the stream correctly. So as we posted in our news - if you pasted the stream URL directly in your media(video) player the video stream played perfect, of course if you had any kind of decent internet connection!

And btw. Simpel Session 07 web broadcast was watched by almost the same number of people as the broadcast of Estonian Europe Eurovision song contest. That is sick!



ANOTHER VIDEO FROM TWENTYVELOCROSS


[02.02.07]



Twenty Bikes video of their riders Nicolas Cambon and Tony Watkinson shredding the Simpel Session course.


CZECH COVERAGE


[01.02.07]

Word came in that Simpel Session news segment was broadcasted on every major Czech tv channel.

Watch it here (Windows Media Video)!


Also czech online magazine bmx-street.com has a pretty decent video up.

Watch the wmv clip here!

There's a shorter trailer up in

Youtube

as well. And BMX-street.com has an

article

thrown in too.



SKATEBOARD COVERAGE


[31.01.07]

If you read any russian then check out the

first

and

second

Simpel Session article on skater.ru. If russian is some strange alien language to you then just look at some neat photos.


CATFISH INTERVIEWED AT FATBMX


[30.01.07]



The interview with the man after Simpel Session contest. Read it!







DUSTIN GUENTHER HAS A FEW WORDS UP IN THE ETNIES BLOG


[25.01.07]



Read it here.


TIMM'S TELLING YA...


[24.01.07]

if you read any german then Tim Wiegmann has a story up on his

weblog

.





INTERVIEW WITH JOSH HARRINGTON!


[24.01.07]



There's an interview with BMX street and high air jam winner Josh Harrington up in the FATBMX. Check it.

Get well Josh!





KINGPIN MAGAZINE


[23.01.07]

Whoa, we still keep getting more and more coverage these days. Check out the feature on Kingpin Mag's online version

here

! A big shout out to Alessandro Volpin for the photos.


SESSION IN HEBREW


[23.01.07]

There's little something something sent to us by Boaz Aquino - a feature on our Simple Session in hebrew in an Isrealian magazine.

Check it out!



Additionally, the fine journalists at skateboarding.ru have put together a

clip

for our viewing pleasure. A photo report will follow soon. Stay tuned.


MORE COVERAGE


[21.01.07]

Hang on there just a bit more - our own photos are going online soon. Meanwhile check a small photoreport on

Woozy

and also estonian site Teip.ee has some video footage:

BMX High Air

,

BMX Finals

and

Skate Finals

. Also check Eniz Fasilov's winning run from

Youtube

.



MINI COOPER ADVENTURE


[21.01.07]

Robin Fenlon, Steve Bancroft and Phil Aller set off on a roadtrip to Estonia in a Mini Cooper. They have a full story and amazing photos for an issue of Ride UK Magazine in the very near future, documenting this outrageous adventure of three tall dudes with three bikes in a small car travelling 3,000 miles to the best contest this year in Estonia that made the Gumball Rally look like a trip to the cornershop (sorta)... so look out for that, in the magazine. In the meantime, here's a quick movie which Phil Aller made of the trip -

CHECK IT OUT FROM YOUTUBE!


There's even some riding involved if you get pass the karaoke section.



AFTERPARTY PICS!


[19.01.07]



More photos of Simpel Session afterparty!


NEW CLIP FROM ALEX BARET


[18.01.07]



Check out small clip from Alex Baret!

More to come in new issue of Props Video Magazine.





WILKE'S BLOG


[17.01.07]



Markus Wilke has some photos and words from the contest and, well more from the parties.



We are making a tv-show of the contest too! We have tons of footage from our own crew and also from Thomas Fritcher who filmed for us. Stay tuned! Also photos going online soon!



CATFISH!


[17.01.07]

Catfish is the man of his words! Check out his new tattoo. And having seen his other two tattoos I can imagine it's just the first part of the picture. Well, actually there was even a concrete plan with estonian flag, a horse and George Bush involved. Word up man! You're crazy!:)





MORE PHOTOS


[17.01.07]

Just a bunch on hang-out photos up in the

weekend.ee

.



SKATE COVERAGE


[16.01.07]

First off, thank you for all the positive feedback!
Deeli of Kingpinmag has

something

up on his blog and Antti put up some footage of the

practice day

and the

main event!

. Check em out!



BMX COVERAGE


[16.01.07]



Mirraco blog

has some insight to Simpel Session. Check

FATBMX

for a lot of coverage as well. And also check first coverages by our czech friends

here

.

A lot more coming - RideUK, BMXPlus, Ride, DIGBMX, Cream, Zwanzig, FreedomBMX, Props, Circle, Fuel TV, Czech mags Playboy, Maxim, Free Magazine, Xstream and more...



SIMPEL SESSION 07 HAS BECOME A HISTORY!


[16.01.07]

Simpel Session 07 is officially over and we're super pleased how everything turned out! We send out enormous thank-you's to all our crew, all the riders, guests and spectators!! We're incredibly honored to be named the best BMX contest on the globe by many-many important names in the BMX world. It's especcially insane if we look back to seven years ago when we started in a country with 5 riders, no skateparks and people with no clue what BMX is all about.



FIRST PICS


[15.01.07]

First pics from last nights afterparty you will find from here.


BMX STREET FINAL RESULTS!!!


[14.01.07]

1 Josh Harrington USA 485
2 Chase Hawk USA 479
3 Dave Mirra USA 456
4 Sebastian Keep GBR 446
5 Alistair Whitton GBR 442
6 Ben Hennon GBR 439
7 Mark Webb GBR 436
8 Mike Spinner USA 422
9 Danny Hickerson USA 420
10 Alessandro Barbero ITA 418

The first 10. Check for more under 'RESULTS'.



THE RESULTS ARE IN


[14.01.07]

The final results for skateboard street contest are in! You can find them under RESULTS in the menu. Here's the top eight:

1 Enis Fazilov 241
2 Chris Astrom 234
3 Lukas Danek 230
4 Georges Agonkouin 220
5 Paco Elles 216
6-7 Boaz Aquino 211
6-7 Chris Pfanner 211
8 Tomas Vintr 210

Best trick: Madars Apse - switch 360 flip down the double set



LIVE!


[14.01.07]

If you don't see the link on the right - click HERE for the amazing internet video broadcast of the contest! If your stream keeps stalling out then open this url straight from your video player -

http://wms2.neti.tv/simpel

(Windows Media Player recommended). You can also watch it full screen like that. Go to 'File' -> 'Open URL'


BMX QUALIFICATION RESULTS!


[14.01.07]



1 Josh Harrington USA 450




2 Chase Hawk USA 444




3 Ben Hennon GBR 441




4 Alistair Whitton GBR 438




5 Mark Webb GBR 436




6 Sebastian Keep GBR 428




7 Dave Mirra USA 421




8 Dave Osato CAN 417




9 Mike Spinner USA 415




10 Bjorn Mager GER 415




11 Corey Martinez USA 413




12 Danny Hickerson USA 408




13 Mark Konig GER 404




14 Sergio Layos SPA 400




15 Nicolas Cambon FRA 398




16 Alessandro Barbero ITA 394




17 Martyn Cooper GBR 388




18 Senad Grosic AUT 388




19 Mike Miller GBR 385


20 Christian Kohler GER 384
-----------------------------------------
21 Aaron Ross USA 382
22 Mark Love GBR 378
23 Owain Glegg GBR 374
24 Dustin Guenther CAN 373
25 Chris Martatos GRE 370
26 Ronnie Surridge GBR 370
27 Tony Watkinson GBR 369
28 Joe Rich USA 369
29 Liam Eltham GBR 367
30 Oskars Zajarskis LAT 363
31 Bjoern Heyer GER 359
32 Hannu Cools BEL 358
33 Jan Janecka CZE 356
34 Raigo Suija EST 355
35 Vasili Borisenko RUS 355
36 Luke Marchant GBR 354
37 Pim Van Den Bos NL 353
38 Markus Wilke GER 353
39 Jason Phelan IRL 351
40 Timm Wiegmann GER 350
41 Markus Braumann GER 350
42 Eduards Zunda LAT 348
43 Robin Fenlon GBR 348
44 Harry Main GBR 347
45 Phil Aller GBR 343
46 Pavel Voitov RUS 340
47 Jan Martinek CZE 338
48 Mitch Yeates GBR 338
49 Jim Cielencki USA 338
50 Peter Manaras GRE 337
51 Ingvar Neumann EST 331
52 Tobias Wicke GER 326
53 Michael Beran CZE 321
54 Viktor Ignatenko EST 320
55 Patrick Rohn GER 319
56 Anton Ardel EST 318
57 Sven Lehmann GER 318
58 Kert Petersel EST 316
59 Kevin Liehn GER 316
60 Jon Taylor GBR 316
61 Janek Pietruczuk POL 314
62 Paul Jeffries GBR 313
63 Ruslans Kurilins LAT 307
64 Max Herbholzheimer GER 299
65 David Panka CZE 293
66 Viktor Hollsten FIN 288
67 Alan Silmann EST 285
68 Peter Grunfeldt SWE 278
69 Jukka-Pekka Mäennena FIN 273
70 Reimo Kiisk EST 257
71 Ronnie Remo GBR - didn't ride
72 Dean Hearne GBR - didn't ride
73 Sergej Geier GER didn't ride


LIVE!


[14.01.07]

If you don't see the link on the right - click HERE for the amazing internet video broadcast of the contest! If your stream keeps stalling out then open this url straight from your video player -

http://wms2.neti.tv/simpel

(Windows Media Player recommended). You can also watch it full screen like that. Go to 'File' -> 'Open URL'

The broadcast is with full festival sound and graphics (judges scores, names, real time high air contest altitudes, slow motion and so forth - so narrowcast in broadcast format!) and as last time it's with great quality! We have 8 cameras and two of them on cranes filming all weekend so everything will be covered. The broadcast will be on air Saturday and Sunday 13th-14th January from 12:00 until 20:00. This is in Tallinn time/GMT! Check your clock

here

and tune in! And you can check everything that's going on in Simpel Session LIVE around the globe. How excited is that?



SIMPEL SESSION ALMOST SOLD OUT!


[13.01.07]

The contest is almost sold out! We have full house of spectators here! If you wanna come on sunday - be early cause we only have a few hundred tickets left!


SKATE QUALIFICATION RESULTS


[13.01.07]

Here are the Top 30 riders and their scores after the qualifying round:

1 Enis Fazilov 229
2 Paco Elles 225
3 Chris Pfanner 223
4 Steve Nesser 220
5 Ben Grove 218
6 Stephan Gunther 218
7 Fabian Verhaeghe 213
8 Georges Agonkouin 213
9 Jyri Pitkanen 212
10 Ross McGouran 211
11 Jo Lorenz 209
12 Boaz Aquino 206
13 Samu Karvonen 206
14 Chris Astrom 205
15 Tomas Vintr 202
16 Max Beinhofer 201
17 Tony Nykanen 200
18 Peter Molec 200
19 Emeric Pratt 200
20 Guillaume Mocquin 199
21 Rodney Clarke 199
22 Sami Miettinen 198
23 Juhani Salo 198
24 Harri Puupponen 194
25 Krzysiek Poskrobko 192
26 Flo Marfaing 190
27 Aleksander Tushev 189
28 Lukas Danek 188
29 Roope Tonteri 187
30 Danny Wainwright 186

The Top 3 will advance straight to the finals. The following 27 will have to compete in the semifinals tomorrow at 12.



LIVE VIDEOCAST IS ON AIR!


[13.01.07]

Check Your

TIMEZONE

and TUNE IN on the

RIGHT

-> !



FRESH NEWS.


[12.01.07]

Skate practice has been going on for almost 2 hours now and everyone are super stoked about the course!


GETTING READY, LOOKING BLING!


[12.01.07]





BMX GUYS IN TOWN


[11.01.07]

Dave Mirra, Mike Spinner, Mike Laird, Chase Hawk, Aaron Ross, Josh Harrington, Corey Martinez and many others are in the house. It will be some party tonite!





LIVE!


[11.01.07]

Everybody tune in Session website for live internet broadcast. Broadcast will be aired Saturday 12:00 - 20:00 and on Sunday 12:00 - 20:00). Thats estonian time:)


INJURY TIME


[11.01.07]

Its real injury time because a lot of skaters have cancelled their trips due to a trauma in one form or another: Roman Ivanov and Gena Kakusha from Russia, Staffan Södergard from Finland and Benny Fairfax from England are taking some time off to lick their wounds.


CHANGES AGAIN, OH WELL..


[11.01.07]

David Quesada has decided not to show the section from the Fly Bikes video cause he wants to premiere it as full. Well, he should have seen the movie theatre we use for our festival, he would have changes his mind.
Anyhow, today we only show Fitlife. Sorry for the back-and-fourth changes. Lots of riders are gonna show up there anyhow to see a rad BMX film on a wide screen feature film theatre, so we hope you too:)!

And about a bit of other topic: Joe Rich, Danny Hickerson, Dave Osato, Jim Cielencki, Mike Miller and bunch of other people have arrived to Tallinn!

And as unbelievable as it sounds - Steve Bancroft, Phil Aller and Robin Fenlon made it here with their Mini. Well it got confiscated in Estonian boarder because of lousy paperwork, maybe they'll get it back tomorro:).



MAP


[10.01.07]



Here's a map that should help you to get around in Tallinn between our festival locations

. This exist also in our contest/film-festival booklets which you can find all over the city, contest venue and hotels.





FLY BIKES


[10.01.07]

These are exciting fresh news. Sergio Layos arrived to Tallinn a few hours ago and he has got freshly edited material from Fly Bikes New Zealand trip - a full section from their new film "Dos". So this 20minutes footage will be on screen tomorrow anyhow! 19:00 in Sõprus Cinema. Be there! Also "Fitlife" will be screened in the same schedule straight after this. The cinema is real sweet, come and check out those nice features and first ever screening of "Dos" material!





ROADTRIP


[10.01.07]

We knew this a while back but this is pretty damn fun, so here's a message from

Steve Bancroft

whos coming over to shoot photos for Ride UK. He's on the road right now.

"Me,

Phil Aller

and

Robin Fenlon

are gonna be DRIVING over, in a MINI thanks to their PR Agency. We are driving through Scandinavia, Niels has been helping out with some details and yeah, it is gonna be a long drive
but also is gonna be a good time."

Take a look at photos and story at www.4130.com/blog (scroll down a bit)
That's the last txt message from Steve: "Yo, done France, Belgium, Holland. Just made it to Denmark. Proplus and Red Bull diet!"



PARK UPDATE


[10.01.07]










Looking dope!



SOME MORE COVERAGE


[10.01.07]



Christian VanHanga

is coming over to shoot photos for French Cream Magazine. Cream boys also plan to do tons of reports and bike checks for their next issue.



THINGS ARE COMING TOGETHER


[09.01.07]

Yeah. We're inside the arena since this morning and building the skatepark together. Also Nate Wessel is here since yesterday and is real psyched about everything. All is looking sweet!







CHECK ONE TWO


[09.01.07]

As you can see from the party programme Check One Two is our official party for saturday (first contest day) and now we have a new artist added to the roster - DJ Leijonamieli from Finland!





FILM FESTIVAL CHANGES


[09.01.07]

Fly Bikes' film 'Dos' will not be shown in the Simpel Session film festival. The reason is simple - Gonz and David weren't able to finish the video in time and are still editing. We're sure it's gonna be damn good, you just have to wait for it a bit more. We're still showing Fitlife in the same schedule as planned - 18:00 on 11th January in Sõprus cinema. Ticket will be 25 krones now. Don't miss the candy of the year on big screen!



LADIES AND GERMANS


[08.01.07]

Almost forgot about the two Nike SB riders from Germany:

Max Beinhofer

(Nike SB, Plan B skateboards) and

Paco Elles

(Nike SB, Trap, Matix). All i know is that Max is a Skater of the Year nominee in Germany and that Paco won the second Adidas Skateboard Clash while Astöm was second. Says enough, doesn't, it?






THE LAST CHANGES IN SKATE LINE-UP


[08.01.07]

Unfortunately, due to a injury, Seth McCallum will not be attending the Session. Therefore, we have three Finns added from the waiting list:

Mikko Kostamo

(DC, Control Skateboards),

Simo Mäkelä

(Nike SB, Volcom, PERUS, Ponkes) and

Jani Leivo

(Adio Europe, Planet Earth Europe).







EXTRA DAY


[07.01.07]

Everybody can try out Simpel Session skatepark on Monday, January 15th. BMX session will be 12:00 - 16:00 and skateboarding session 16:00 - 21:00. Entrance fee is 40 EEK.


TV CLIP OF SESSION 07


[07.01.07]

Check out our TV clip for Session 07!


T-SHIRTS


[07.01.07]

Limited edition Simpel Session t-shirts avalaible at the Simpel Lounge!






SIMPEL SESSION PARTIES!


[06.01.07]



Check now the party programme!


Simpel Session parties are legendary and now they're back in von Krahl that we have learned to respect as a proper ground for some heavy fun. Some reminders for you guys:


















BMX UPDATE


[05.01.07]

Here's a massive update on the BMX riders list.
First of all some bad news - Mike Laird is out. He broke both hands with a flip to concrete. He's still coming over though just to check the event out. We wish you a quick recovery Laird! And take it easy on some good old estonian fun:)

But added are

Mark Love

,

Tony Watkinson

,

Ian Morris

,

Liam Eltham

,

Robbie Remo

and

Mark Webb

- all from the UK, all great guys! Also

Alex Baret

from France will be here to film for Props Video Magazine. And there are also two riders added from Oldenburg Germany:

Max Herbolzheimer

and

Christian Köhler

. As well as

Ronnie Surridge

, a lad of English origin living in the US.










BE AWARE BOND, URBAN FREEFLOW PARKOUR TEAM HITS TALLINN!


[03.01.07]

The ones who have seen the last Bond movie must know that the tricks seen in first action sequence where parkour. The team who advised the movie makers are showing their skills and share knowledge at Nokia parkour area. Demos and workshops will keep you warm in cold Tallinn.







SPANISH FLY


[03.01.07]



David Ramos

(Alai skateboards, Billabong, DVS, Von Zipper, Eastpak) will be flying in from Getxo, Spain. David is 26 years old and enjoys sushi and the Stone Roses. Welcome, David!





FINNISH INVASION pt2


[02.01.07]

We have confirmed the following riders:

Wille Mäkelä

(Melodica, Etnies, Quiksilver),

Erik Toivanen

(Melodica) and young

Roope Tonteri

(Funster, Globe). More nordic invaders to follow soon.






RED BULL BMX HIGHEST AIR CONTEST


[30.12.06]

Besides BMX street we're gonna have a Red Bull quarterpipe high air contest on sunday 14th of January. First time in Estonia! Backyard Jam has been doing it for a couple of years and it's just sick! Guys are pedalling full speed clearing 14+ (or more?:) feet and it's just plain nuts if you ask me. Red Bull put a 1000€ up for grabs and we're building a 3.2m high/6m wide quarterpipe to offer a proper launch. Besides that we're gonna step it up with a tech altitude camera - that means real time height numbers are going live on screen, all that should make an amazing contest even more exciting. And with stratosphere pilots like Keep, Whitton, Hawk, Mirra, Rich, Taylor, Miller and likes in the list, who knows what's gonna happen.
Check Baz Keep clearing 14+ feet at the 05 Backyard Jam where he tied at 1st place together with Morgan Wade. Mental!







POSTERS...


[29.12.06]

...are spread out all over Estonia.






THE ARROW FROM ISRAEL


[28.12.06]



Boaz Aquino

(Red Bull, Element Israel, Satori) from Tel Aviv, Israel will be joining us for the contest. Boaz is a talented skater who has appeared in mags across the globe, even in the Finnish skater mag Hang Up!





ADDITIONS TO SKATE LINEUP


[28.12.06]

The 10th place from the previous Session

Mack McKelton

(Titus Berlin, OGIO, Globe, Forvert, Red Bull, o2, Vestal watches, anzeigeberlin, Troyan Gloves, Bones) from Berlin, and two Finns

Teemu Korhonen

(Lamina Skateshop, C1rca, MicMac) and a young gun

Tony Nykänen

(Lamina skateshop) are added to the lineup.





RECORD NUMBER OF COUNTRIES...


[26.12.06]

...are represented at Session 07 - 23 countries! Such as: Estonia, Latvia, Lithuania, Finland, Russia, Sweden, Denmark, Germany, Austria, Switzerland, Great Britain, Canada, USA, Belgium, Holland, Czech, Ukraine, Ireland, Spain, Italy, France, Poland and Greece.


US BMX


[23.12.06]

The BMX list is wrapping up - two amazing riders added from US!

Jim Cielencki

(Sunday, Odyssey, Duffs) and

Josh Harrington

(Premium, Oakley, Vans).






HE'S AN AMERICAN


[22.12.06]

We can finally confirm three US riders to our event:

Emeric Pratt

(Nike SB, Krux trucks, Roughneck hardware, Familia skateshop),

Seth McCallum

(Nike SB, Krooked, Krux trucks) and

Steve Nesser

(Adio, Planet Earth Clothing, Birdhouse, Spitfire, Independent, Swiss Bearings, Familia Skateshop) are all flying in from Minneapolis.
Steve has been travelling a lot lately and he will be joining us directly from Mexico. You can check out a little flick from Dubai starring Steve here. Emeric and Seth are good friends. Seth just got an interview in The Skateboard Mag and you can read Emeric's answers from Thrasher Mags website.







MOVIES IN SIMPEL SESSION FILM FESTIVAL!


[22.12.06]



YOU CAN NOW READ INTRODUCTIONS TO ALL THE FILMS IN OUR FILM FESTIVAL.






SIMPEL SESSION 07 COURSE!


[21.12.06]

The design of the skatepark is ready and we have started building!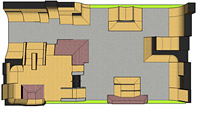 This winner course is designed by

Nate Wessel

(who is also flying over for the build-up and event) and will be built by Session Ramps.
Check more

HERE

.



FINNISH INVASION


[20.12.06]

Here it goes:

Harri Puupponen

(Sykum Footwear, Aste Skateboards, Lamina Skateshop),

Juhani Salo

(Aste Skateboards, Lamina Skateshop),

Tommi Puustinen

(Lamina Skateshop, Emerica),

Mikko "Rad Mike" Koski

(Tikari Skateboards, Vof, Lamina Skateshop) and

Staffan "Wolf" Södergård

(Tikari Skateboards, Fallen Footwear, Lamina Skateshop).






VANS PRO TEAM


[20.12.06]



Flo Marfaing

(Santa Cruz, Lordz, Vans, Fury trucks and Zeropolis skateshop) from Germany is added to the skate lineup. If you have seen his part in SC flick Out There, then you know what I'm talking about...





CONTEST SCHEDULE!


[19.12.06]



THE CONTEST SCHEDULE IS ONLINE!

.


TWO MORE RIDERS IN BMX!


[18.12.06]

The BMX contest is nearly full. Two more riders are confirmed -

Janek Pietruczuk

(Red Bull, Osiris Shoes, White Trash) from Poland and with the kind help of MysticBMX

Dave Osato

(Wethepeople, Demolition, Little Devil) will arrive again to the Session. The ever-amazing canadian was here in 2004 and killed it - on and off the bike. Besides second place I remember Dave having pretty decent action in all over Tallinn bars. Well, we expect no less from those canadians. Welcome:)!






And we have new course design almost ready. Stay tuned for preview. It's gonna be damn good.



THE GREEK


[18.12.06]

From the land of gods we have

Giorgio Zavos

entering the contest. He is sponsored by Vans, Element, Vonzipper, New Era, Venture, Eastpak. He does not have a lot of contest practice so far: 64th in European Skateboard Championships in Basel (2006), 4th in Red Bull Skate Shot in Turkey.



KANADA BMX


[15.12.06]



Dustin Guenther

(Redline, Square One, Primo, Tenpack, Red Bull, Etnies Flow) from Vancouver Canada is added to the BMX list.





CHANGES IN SKATE LINEUP


[15.12.06]

Bas Janssen of Element will be replaced with

Gauthier Rouger

of Element France.





EASTPAK EURO SKATE TEAM


[14.12.06]

The whole Eastpak Euro team will be competing at the Session! Because Ross McGouran, Hugo Liard and Chris Pfanner were already confirmed, we can now add the Germans

Stephan Günther

(Eastpak Europe, Es, Rollmops, Spy, Asio Otus) and

Jürgen Horrwarth

(TRAP, Etnies, Volcom, Nixon, Redbull, Eastpak, Oakley, TSG, TypeS), the swede

Foppa Forsberg

(Eastpak, Emerica, Blah, Streetmachine, Marok, Alis, Vonzipper) and last but not least

Georges Agonkouin

(Eastpak, DC, Plex, Gotcha) from France.






TEASER


[14.12.06]

If you spotted this poster in the dark streets of Tallinn and somehow ended up on this funny lookin website - your'e on the right track..





FILM FESTIVAL!


[14.12.06]

As mentioned Simpel Session will put up a proper 3-day film festival in two cinemas of old town Tallinn (Sõprus & Kinomaja). Don't miss an unique chance to see the best bmx and skate films on big screen!
Check the program from HERE.




BMX LINE-UP


[13.12.06]

Very sorry to say but Taj Mihelich is out with the back injury.

But new added riders are:


Dean Hearne

from UK (United, Vans)


Mike Miller

from UK (Proper Bike Co)


Nicolas Cambon

from France (Twenty Bikes, Vans, Fox)


Viktor Hollsten

from Finland (Felt, Vans, Eastpak, Oathbmx)








EXTRA DAY!


[13.12.06]

With the support of Tallinn City we will have the park open for everyone on monday 15th of January, that is the day after the contest. So everyone can come and try the course. There will be separate BMX and skateboarding schedule, we will publish specific times and fees in the website soon.



TRAINING DAY


[13.12.06]

Training day for invited riders will be on Friday, January 12th.
15.00-18.00 Skateboarders
18.00-21.00 BMX riders
Doors are open also for press.



EASTERN CONNECTION


[12.12.06]

Our skateboard street line-up gets the heat with two Ukrainian riders:

Sergei Krytskyi

(C1rca, Cliche) and

Andrei Rizhov

(Cliche, Vans) will be making a journey over to Tallinn. What happen in Ukraine? Look here.






RUSSIAN DELEGATION


[12.12.06]

Alexei Lapin writes: "Russian skaters have already started to pack their luggage and they are almost ready to visit their northern neighbor. This time it will be the biggest Russian delegation in the entire Simpel Session history. Five Muscovites and one guest from Saint-Petersburg will compete with the best European skaters. Don't worry, crowd puller

Gena Kakusha

, who has recently parted with his sponsors and started skate for Nike SB, continues to skate at a very high level, and he will take part in competitions. Also, his friend, and participant of most of previous Simple Sessions

Alexei Strukov

(Nike SB) will enter the contest. Not far ago he returned from China where he was perfecting his skateboarding skills in a skatepark during several months.

Sasha Tushev

, also widely known as "Trush", member of European Adio and Planet Earth Europe teams, who missed Session 06, will come to show the best Russian skateboarding!..."







RUSSIAN DELEGATION pt.2


[12.12.06]

"...

Pasha Kuznetsov

(Circa, Enjoy) and

Roma Ivanov

(Adio, Black Label) will participate in international competitions for the first time, also it
will be their first time in Estonia. And our northern capital, Saint-Petersburg, will be represented by

Sasha Avdeev

(Etnies, Element)." Wonderful!







VANS RIDER


[11.12.06]

We can confirm

Ben Grove

(Unabomber, Vans, Thunder trucks, Spitfire wheels, Diamond hardware, Note skateshop, Eastpak bags, Oakley) to the Session. Ben comes from Sheffield, England and likes cheese and onion butties.





NATE AND ZACK


[08.12.06]

We're gonna give you insight on two great things.
First of all we're gonna have

Nate Wessel

on board for the new course design. He's the guy behind several XGames park layouts, a lot of the parks at Woodward, Backyard Jam parks, mentor of Red Bull Backyard Build-Off, the list goes on and on. He's simply one of the best in the world and he's also designed many awsome layouts for skateboarding. Now Session Ramps will cooperate with mr Wessel on Simpel Session 2007 skatepark and expect it to be a bomb.
Secondly, BMX announcer for the event will be no other than

Zack Yankush

aka Catfish. Yes, you heared it. He's responsible for running his mouth at the XGames, Red Bull Elevation and pretty much every other major BMX contest in the US.






FIAT CARS


[08.12.06]

We are honored to introduce new head sponsor of Simpel Session 07 - FIAT Cars (presented by Itaaliaauto).

The rest of the head sponsors are Red Bull, Snickers, Nokia, Vans, Eastpak, SEB Eesti Ühispank, Merko, JCDecaux, Eesti Päevaleht and Eesti Ekspress.



STEREO SOUND AGENT


[07.12.06]

We are happy to present the Sound Agent no. 93

Benny Fairfax

(Stereo Skateboards, eS footwear, WESC Clothing, Krux, Red Bull) hailing from the UK to take part in the Session. Benny has been getting a lot of coverage lately in all the biggest US skate magazines. He also participated in the Etnies Goofy vs Regular contest and Tampa Am 2006 with great results.





LITHUANIAN SKATERS


[07.12.06]

We can finally confirm two Lithuanian skaterdudes:

Dima Fiodorov

(X-Club shop, Etnies) and

Tomas Jokubonis

(X-Club shop). They are the first Lithuanians ever to enter the Session contest so make them feel welcome.





RUSSIAN BMX AND ONE FINNISH RIDER


[04.12.06]

...are added to the line-up. They are

Vasili Borisenko

, a stylish russian rider that has been coming to Simpel Session already for 4 years and

Pavel Voitov

who was voted as best Russian BMXer of the year.

Jukka-Pekka Mäennenä

from Finland rides for Finnish companies Signature and Airtime and is now in the list as well.





MORE UK AND IRELAND!


[04.12.06]

More boys confirmed from the UK!

Luke Marchant

(Etnies, Fly Bikes),

Paul Jeffries

(Proper),

Leon Perkins

(Nike6.0) and the first Irish guy in the contest is

Jason Phelan

. This young lad from Waterford Ireland took first place in expert category at the recent Backyard Jam, after going big on everything, everywhere, ensuring that this is likely to be his last contest riding in the expert. You might wanna check out his amazing riding from a few videos on his Myspace. Luke Marchant was riding in pro finals in Sheffield and this guy has got the speed and style. Here's a 2-years old video
(wait a few secons and double click the screenshot) from him I found from Fly site.








MIC MAC SKATERBOYS


[01.12.06]

The beginning of december brings us fresh news from across the bay and we are happy to confirm two of the Mic Mac riders:

Jyri Pitkänen

(Mic Mac, E's, Nixon) and

Sami Miettinen

(Mic Mac, Vox, Perus). They have taken part at the Sessions since 2003, that could very well win them "the Longest History of Skating on the Session" award. If only such an award existed. Tervetuloa takaisiin!





CIRCA EUROPEAN TEAM


[29.11.06]

Circa footwear Europe sends two of their best riders.

Fabian Verhaeghe

(BEL) - C1RCA Footwear Europe, Zero skateboards Europe, Volcom clothing Europe, Zumiez skatepark and shop, Nixon and Electric.


Ramon Hungerbühler

(SUI) - C1RCA Footwear Europe, Plan B flow, Krew Clothing flow, Nixon flow, Doodah shop, Odyssey eyewear flow. Check out Ramons video here.






RIDER REPLACES...


[29.11.06]

Unfortunately Brian Kachinsky is out of list. He has to get knee surgery this week due to a torn ACL ligament. But

Sergio Layos

from Madrid Spain is coming in his place. Sergio has become one of the best riders around. He boasts some major sponsors, has traveled through 20 different countries, helped start the first Spanish BMX business and now has his own frame and handlebar models on Fly Bikes - all at a very young age. His style and tricks are also helped his way up in many contest podium places.





The last two Latvian riders


[27.11.06]

Finally, we can confirm the last two Latvian riders:

Eduards Nehajenko

(Fenix clothing) and

Gatis Celminhs

(Malita Clothing Company) are added to the roster.


One more Vans rider


[27.11.06]



Danny Wainwright

hailing from Bristol, Great Britain is coming to the contest. Danny was at the previous Session but was hold back by the slippery floor. We will fix it, Danny!





VANS EURO-TEAM


[26.11.06]

You are finding new Vans european pro's in our skateboarding list -

Chris Pfanner (AUT), Ross McGouran (GBR), Hugo Liard (FRA)









ETNIES BMX


[24.11.06]

What can I tell.. this lineup for Session07 is going plain nuts! Etnies USA team manager

John Povah

promised to bring half of his team to Tallinn. That includes

Joe Rich

,

Taj Mihelich

,

Aaron Ross

,

Danny Hickerson

and

Brian Kachinsky

. Possibly more guys to be added. We've been talking with Joe and Taj for several years already about coming and we're very happy to see that finally coming true, especcially because they don't hit many contests these days. I don't think we need to say much about those guys, one of the innovators of BMX, legendary T-1 founders and badasses on a 20-inch bicycle.

Brian Kachinsky

calls Neenah Wi home and besides Etnies rides for DK, UGP and Baco.

Aaron Ross

is a 20-year old guy from Corpus Christi Texas and kills it on street and dirt for Etnies, FBM and Odyssey. And last but not least we have

Danny Hickerson

, an unbelievable tech rider (barspin to footjam nosepick for breakfast) and recent silver medal from Backyard Jam 3 weeks ago. We welcome you all!









ELEMENT SKATEBOARDS JOINS THE LINEUP


[23.11.06]

We have some updates in the skateboard lineup after a long hiatus. We got Element Skateboards international team with

Jo Lorenz

(GER),

Bas Janssen

(NL),

Guillaume Mocquin

(FRA) and the team manager

Christian Vankelst

(BEL) himself, who will be upping the ante for his riders and fellow team managers. They will accompanied by their female team member

Evelien Bouillart,

who won the girls contest in Session 2006 and is now coming to cruise with the guys.






[22.11.06]

Simpel Session new shit will hit the streets pretty soon. In the meantime I've found a few old clips from my hd. Maybe you care to check them out. *TV2005 *TV2006



UK BMX


[21.11.06]

Two more riders from the UK posse have signed up -

Chris Mahoney

(Vans, Felt Bikes, Money Clothing, Protec Helmets), last years 6th place in street will attend the contest again as well as

Jon Taylor

(Hoffman Bikes, Vans, Seventies), legendary ramp rider and BMX handplant originator, first-timer in Simpel Session.






4XSIMPLE


[20.11.06]

Simple will be in the house at Simpel! Either way you respect the english grammar or not, we will have four Simple Bikes team member signed up for the contest -

Mitch Yeates

(UK),

Peter Grünfeldt

(SWE),

Travis Johnston

(AUS/DEN) and

Pim van den Bos

(NL). The man behind the wheel

Nielswheels

has unfortunately hurt his knee but he will come over and take the responsible job as 1/4 of the judging team for his shoulders.








PRESS ACCREDITATION HAS BEGAN


[07.11.06]

Journalists and photographers can apply for press passes to the festival by filling in the accreditation form under link "Press".


EASTPAK BMX


[05.11.06]

Eastpak Euro team manager Andy Zeiss has just informed us about three additions to the line up:

Ben Hennon

(Eastpak, Haro, Etnies) from UK,

Alessandro Barbero

(Eastpak, Haro, Oakley, Red Bull, Vans) from Italy,

Hannu Cools

(Eastpak, Wethepeople, Carhartt, Hangloose) from Belgium. Two more teammates are still to be confirmed. Hannu and Ben were present also in last Session contest but unfortunately got injured and didn't have the chance to ride the finals. I'm sure they will fix that now.






OUR SPONSORS


[03.11.06]

Please take a few minutes to click the logos on the right and visit our sponsors. They are the ones that help us to make everything happen. Respect! Our longtime partner and name sponsor is Estonian Mobile Phone's calling card Simpel. Head sponsors are Red Bull, Snickers, Nokia, Vans, Eastpak, SEB Eesti Ühispank, Merko, JCDecaux, Eesti Päevaleht and Eesti Ekspress. The contest is also sponsored/supported by Sportland, Mystic.ee, Kanal 2, Raadio 2, Ride BMX Magazine, Document Skateboard Magazine, Reval Hotels, ElamusStuudio, Sessionramps and Sahtel. Newest addition to our partners list is DIG BMX Magazine. Big up to you all!



NEW RIDERS CONFIRMED


[02.11.06]

It's getting hard to keep up the blog with confirmed riders and even though it's still a little more that 2 months until kickoff the list is filling up with top riders in high pace. So, as we warned you guys, Dave Mirra is not going to be the only Mirraco rider at the contest, 18-year old wonder kid

Mike Spinner

and 30-year old 'still shredding it'

Mike Laird

will join him.



ROBIN, BAZ AND PHIL


[30.10.06]

Three fine British lads are confirmed!

Baz Keep

(Hoffman, Red Bull, Roudabout, Vans, Seventies, Primo, Oakley) from Hasting England will make his second attendance at the Simpel Session. Baz tied with Morgan Wade in the high air contest in 2005 Backyard Jam, so you can expect what's coming.

Robin Fenlon

(Macneil, Roundabout, Primo, Volvo Cars) will join Baz and this will be already his third visit to the Estonian capital. Robin and Baz also just had their

Roundabout

video premiere at the currrent Backyard Jam. It's very likely that we're showing this great film also in our pre-Session film festival. Oh, I think we actually haven't given out info about that yet. Well, let that wait a bit and get you excited. We also just received information that

Phil Aller

from Mankind Bikes will be attending the event again. Even though he got hurt last year he still had a good time and we'll be happy to have him again! Also

Steve Bancroft

will be coming to hang out and shoot photos for Ride.







FINLAND AND POLAND


[29.10.06]

These names just came in: the Session 06 silver medalist

Enis Fazilov

representing Happy Hour Skateboards and his teammate

Jarkko Poropudas

are on the way. From Poland we have two guys:

Jans Kurzawa

(Es footwear, Cliche skateboards, Mob grip) and

Tomas Gailias

(Etnies footwear, Drama skateboards, Krew clothing).





SKATE UPDATE


[29.10.06]

Here we go with the first additions to skateboard lineup. Without further ado:

Chris Aström

from Sweden will be competing at the Session again. He promised to take back the gold that was once his in 2004. The hunt is on says the Latvian young gun Madars Apse. He came fourth in Session 06 and took silver in 05. There's three more Latvian riders entering:

Arturs Bahurcevs

(Boards.lv),

Rudolfs Henčels

(Plan B skateboards, Vans shoes, Mosquito skateshop) and

Kārlis Bogustovs

(Duffs, FunBox skateshop).





SAHTEL JA SHADOW


[26.10.06]

Here's what Ron Bonner from The Shadow Conspiracy had to say on our Sahtel magazine:


"During the Interbike tradeshow we got a hold of another issue of Sahtel magazine from Estonia. Sahtel is a mutli sport mag and the only mag we know in Estonia that is pushing BMX. The art direction is amazing and if you can get your hands on it you'll be stoked, besides the fact you wont be able to read it, ha ha."


Check this and rest of the Shadow news at their relatively new blog adress - www.theshadowconspiracy.us/



BACKYARD JAM


[25.10.06]

This weekend Sheffield England will host the annual Backyard Jam contest. It's gonna be good and the last main meeting point before Simpel Session. Be there!


MIRRACO


[24.10.06]

Yo, and we've got some more news that I know many of you will get excited on. Namely,

Dave Mirra

will come to Simpel Session! He lives in North Carolina now and rides for MirraCo, Dragon, Fox, DC Shoes, Slim Jim and Snafu. I'm sure we don't have to say much more about this guy. Dave is not the only Mirraco rider that will attend the contest, two of his teammates will join. We'll tell more about it later.





MORE NEWS


[24.10.06]

So, what to tell you today... just got back from a very nice trip to Stockholm. And had the hard disc of my computer blown up today afternoon. Err. Well, but that will not stop us to tell you another piece of fantastic news. Namely, our friends at Mystic.ee distro have confirmed with us that

Chase Hawk

(Odyssey, Fit, Lotek, Fox Racing) from Austin USA will join the contest! This kid is fast as hell and goes higher than pretty much everyone, all that with great style. We're sure he will enjoy his visit. And that's not all. Fly Bikes bmxer

Timm Wiegmann

told us that he will be attending the contest again! This will be third Session for the tech german rider and we're definately excited to have him over.






OFFICIAL HOTEL OF SESSION!


[20.10.06]

Like last years our official hotel is Reval Hotel. Please find more info under link "Accommodation".


TWO MORE GERMANS


[13.10.06]

Two more last events finalists are in the list: 8th place

Björn Heyer

is confirmed and so is

Mark König

who placed just ahead of Björn. Mark has been coming to the contest starting from 2003 in Tartu when he won 5th place in street.



REMEMBER THE TIMES


[13.10.06]

Hereby some photos of memorable moments by photographer David Blazek:













CANDY..


[12.10.06]

It's 2,5 months until kickoff but it's already getting better and better. We have confirmed

Corey Martinez

(Red Bull, United, Primo, Orchid) from Illinos Alabama US for the contest. Corey is arguably one of the best BMX cyclists in the world and has won Nora Cup Award as best street rider of the year two years in a row now. We're stoked to see him at the Session. And secondly - mr.

Alistair Whitton

(Shadow, Macneil, Vans, Oakley, Little Devil, Protec) part time UK/US resident, decided that Estonia is ready for his second visit. Alistair is a true contest rider and really amazed the crowd in his last attendace at the 2004th Session where he took home the bronze medal.






FLY AMIGOS


[10.10.06]

As mentioned,

Kevin Porter

(Fly, Vult, Duffs, Profile, Dead Memory) from Burbank, Illinois is not the only lad from Fly Bikes who is going to come to the contest.

Dylan Smith

from Denton Texas will join too as well as two of 3Amigos -

Javier Ortega

and

Perico

, the first Spanish bmxers in Simpel Session. Welcome!








MARKUS BRAUMANN


[10.10.06]



Markus Braumann

(Felt, Orchid, PellePelle) from Germany will join the contest again. Markus had to skip the last Session because of destroyed knee but he's healthy now and will attend the street comp. In 2005 Session he took 7th place in the finals.





TOBIAS & SENAD!


[09.10.06]

Two new pros added to the list of bmxers -

Tobias Wicke

(Wethepeople, Vans, Eastpak, Red Bull, Carhartt) from Berlin who have already won gold and silver at the Simpel Session has signed up again. Last contest he couldn't ride the finals due injury but is coming back now to even things off. Tobias' buddy

Senad Grosic

(Haro, Vans, Red Bull, Eastpak, Oakley) from Untertullnerbach has also denoted his attendance. This technical Austrian rider had unfortunate crashes at two last Sessions that left him out from the finals but Senad will be back for 2007 to settle the score.






MARKUS AND BENNY COMING!


[05.10.06]

Third place winner on Session06

Benny Korthaus

(Red Bull, Oakley, Adidas, MacNeil) from Munich Germany is down with attending the event again. And so is

Markus Wilke

(Eastpak, KHE, Snafu, Vans, King Kong) from Cologne Germany. Markus has been to Session three times already, last year he had to stay home with and injury, so we're especcially happy to welcome him back!






SIMPEL SESSION LIVE OVER THE INTERNET!


[05.10.06]

Besides showing everything on big led screens on site we will also broadcast the event live over the internet! We did it last year as a test and it worked out really wicked. People all over the globe were watching the contest. It will be the same broadcast that we show on the leds and the stream is with excellent quality, works even as full screen. So, if you're coming to the contest, tell your friends and family at home to log in. Details how to watch it we will publish right on this website later on.



CZECH CREW


[29.09.06]

Team manager

Tomas Znamenacek

has confirmed already a list of riders for the Session 07. And they are last year's winner

Tomas Vintr

as well as

Lukas Danek

and

Peter Molec

. As for BMX street

Michael Beran

,

Jan Janecka

,

Jan Martinek

and

Ondrej Slez

are confirmed.



EASTPAK BMX


[25.09.06]

Eastpak Europe team manager

Andy Zeiss

has informed us that he plans to take his team to Simpel Session once more.



RIDER UPDATE


[16.09.06]



Niels Thanild

from Simple has promised to come over again and take some teammates along and so has

Kevin Porter

together with his amigos from Fly Bikes.



ESTONIAN QUALIFIERS


[13.09.06]

Simpel Session was pretouring in three Estonian cities in order to find out the best local riders to qualify for the contest in January. And in BMX these guys are:

Ingvar Neumann

,

Raigo Suija

,

Lauri Post

,

Alan Silmann

,

Anton Ardel, Viktor Ignatenko, Kert Petersel

and

Reimo Kiisk

.

In skateboarding:

Kaur Rank

,

Aleksander Tubin

,

Rainer Karmann

,

Sergo Semitsev, Hendrik Gross, Eron Nõlvand, Romario Siimer, Ahto Eller

and

Jaan Suits

made the cut. Congrats!